Let's hope that 2018 brings evenness to our breathing again and an improved ability to handle the hysteria whipped up by the media's hyperbolic reporting to generate online clicks and income – and of course, to create the news rather than report it. At the end of the year, we are left with a toss-up question: Who is more untrustworthy? The government or the media?
The greatest losses to the New York ballet stage in 2017 were Veronika Part, who was booted by ABT's moronic director in a disrespectful, mean-spirited, and unprofessional dismissal that shocked the ballet world, and Marcelo Gomes, who resigned from ABT under murky circumstances in the wake of the media's piranha-like feeding frenzy on men's genitals everywhere, workplace or not. The partnership of these two dancers, along with Bocca and Ferri, brought us perhaps the most magical classical performances of the last two decades – an honest, truthful magic that doesn't come along very often on the ballet stage. These days, fake ballet partnerships are contrived by PR in order to push lacking, insubstantial, or homely dancers to the forefront.
ABT's ass-covering public smearing of Marcelo, who was the remaining singular titan on its roster, really comes as no surprise. No one expects ABT to do anything the right way any more. It's the simple truth. The company has dealt with actual workplace sexual harassment situations over the years while Kevin McKenzie was in charge. Its executive director, Louis Spisto, and later its Assistant Artistic Director, David Richardson, were both accused of repeated sexual harassment in the workplace. The claims against them eventually found their ways to the EEOC after which each man left ABT under a disturbing dark cloud. Given its experience, there's really no excuse for ABT not handling the current matter more diplomatically and fairly to the artist.

Look what we have lost: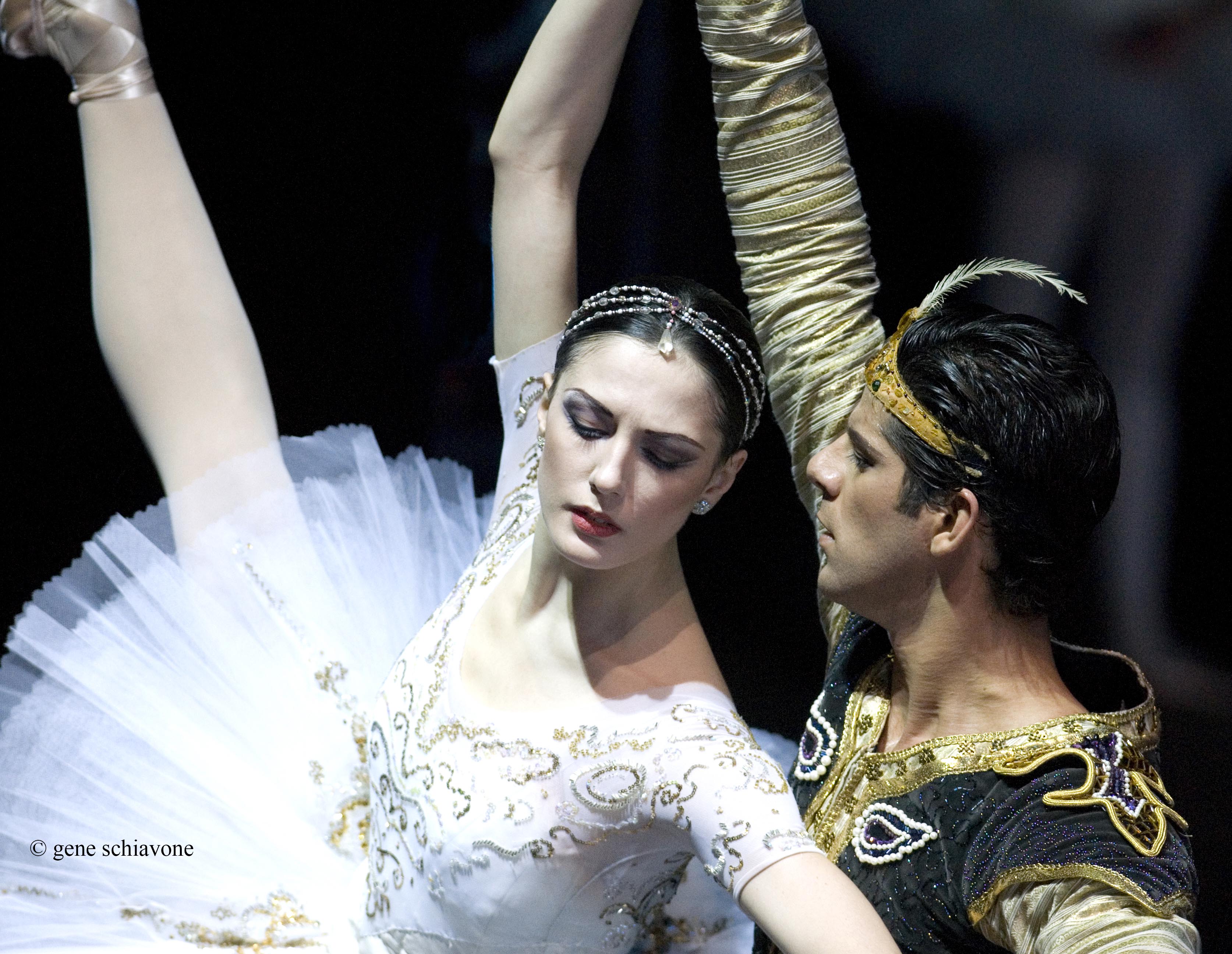 Photos by Gene Schiavone
ABT's opaqueness and its quick, thoughtless smearing of Marcelo hark back to the fearful reactionary over-reaching during McCarthy's popularity. We are, of course, in a McCarthy-like climate at the moment, but this time, the media is the unbridled aggressor pitching to the public unsubstantiated claims including those from anonymous claimants. Hopefully, New York City Ballet will show more steadiness in its response to the dubious claims against its leader which are being peddled and promoted by The New York Times and The Washington Post. New York City Ballet and its audiences will be best served by Peter Martins remaining Ballet Master in Chief.
We closed out this miserable year by seeing two NYCB Nutcrackers, both of which we suspect included final role salutes by principals. Maria Kowroski danced a remarkable Sugarplum Fairy in which she continued to instruct us as to exactly what it means to stretch a tendu beyond its obvious point. No others in the company do so as clearly and elegantly; no others in the company possess limbs that even approximate the beauty of Maria's. Without question, Maria has a lot of horsepower left in her engine. But if this was her final salute to the Sugarplum Fairy, it was a plum performance that we'll always remember. In one of the most difficult PdDs that Balanchine created, she was at ease while being sublimely partnered by Tyler Angle. Both tricky pique pirouettes into penche arabesques were as smooth and unruffled as we've ever seen them — with the exception of Melissa Hayden in the 1950s-60s on TV. Maybe Haglund's memory is playing tricks on him, but he has a strong recollection of Hayden doing double pique pirouettes with a blind catch of the wrists by her partner from behind. Maybe she just did that for TV though… 
Yesterday, Joaquin De Luz danced his final Nutcracker Cavalier at NYCB. Along with our sorrow of watching his amazing career wind down in the past few years has come a growing excitement to see what his second act will be. He has packed more than most into his long career beginning with the Victor Ullate Ballet Company followed by Pennsylvania Ballet, ABT, and his final and longest stint at NYCB. He has so much experiential knowledge and authority that his Act II in life may turn out to be more important to ballet than Act I. For his Cavalier variations yesterday, Joaquin opted to throw in double saute de basques with the manege of coupe jetes, a rarity among NYCB men. Rather than the turns a la second, he launched into a more difficult series of double tours/pirouette. His partnering of his illustrious Sugarplum Fairy, Megan Fairchild, was everything a ballerina could ask for. During a few lifts, he seemed to refuse to allow her to come down. It was a warm, generous, celebratory final salute to the Nutcracker Cavalier.
Lastly, because our hope and optimism are pathological and probably fatal, we must report that Julio Bocca announced that he would not continue with SODRE as either a teacher or coach following his exit as Artistic Director which occurred today. He had previously said that he would. That leaves him free and clear to accept whatever reasonable offer ABT's board could come up with to end our decades long misery under McKenzie. Julio said that in the coming year, he has plans to work with ABT, San Francisco Ballet, Orlando Ballet, and English National Ballet. He's going to set Le Corsaire on Paloma Herrera's Ballet Estable del Teatro Colón. It sounds like he's getting a second wind…
For Ballet Nacional Sodre's final performance under his direction, Julio chose an outdoor venue in beautiful Punta del Este on the Uruguayan peninsula where 5,000 people watched the company free-of-charge from beach chairs and the like under a moonlit sky —  just as people did in 2007 when Julio gave his farewell performance in Argentina. He's not shy about saying how proud he is of the company he grew during his time in Montevideo. In reference to his upcoming work at Teatro Colón, he said (courtesy of Google translater),
"

I hope they get used to my way of working.

I have my form, and you saw the results, everyone saw them.

We went to the Cannes festival this year and critics compared it to the Paris Opera.

There is a way of working that is mine and I hope that the Colon can absorb it as they absorbed it here.

I hope everything goes wonderful.

I want to see what I can give that remains in the theater.

I'm going to do something specific that is Corsair, it's to go, to work as we work, with excellence, those who are fit will dance, the idea is to open the curtain and make it a function of excellence."
If there is a god, he will bring Julio to us to end our nightmare.

Julio taking a final bow in Punta del Este: